A contemporary art book showcasing Edinburgh through the eyes of 67 contemporary artists the city inspires. Edited by Emma Bennett, images were chosen by a local panel of art and city experts following a free submission process from artists.
Through 120 pages of visually stunning images from artists working in a broad range of media and style, The Edinburgh Art Book shows the city in a new and exciting way. With the help of the illustrated map in the book, take a walk with a copy of The Edinburgh Art Book in your hand and stand in the footsteps of an artist for a while.
Some of the celebrity endorsements for The Edinburgh Art Book
'A great book with some beautiful pictures of our home city'
Craig and Charlie Reid 'The Proclaimers'
'Edinburgh's unique character- old and new, architectural and scenic, urban and coastal- is beautifully captured by its artists' Rory Bremner Scottish impressionist and comedian
'Edinburgh is the most stunning city architecturally in the whole of the UK. But then I'm biased. These are the streets of my childhood revealed and adorned by its very own artists in a wonderful variety of colour and style'
Iain Glen Actor (Ser Jorah Morment in Game of Thrones)
'If art is the mirror held up to nature by which nature sees itself, this book, this growing series of books, is a beautiful introduction to an expansive universe of artists, known and unknown, and there can be no end of benefit from that.'Robert Cavanagh TV and Film Actor
'What a beautiful book about my favourite city in the World. My home. Wonderful images by contemporary artists. I have the best memories of Edinburgh and this book will take pride of place in my house'
Gail Porter TV Presenter
'Although I was born there, I don't know Edinburgh very well, but when I look at these wonderful images, I long to jump on train and rediscover this beautiful city' Lindsay Duncan, TV and Film Actress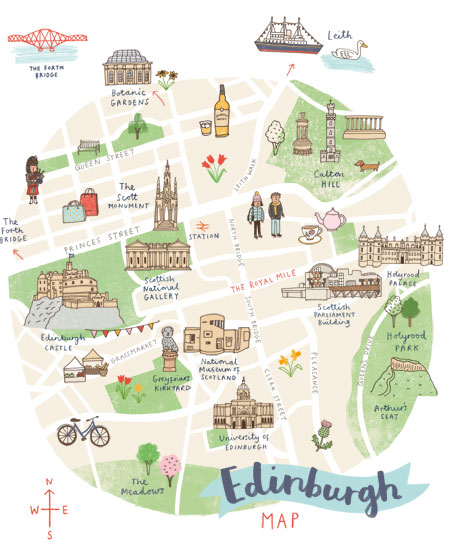 Map by Jenny Seddon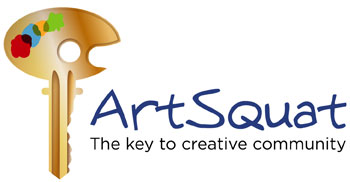 www.artsquat.org.uk
The Edinburgh Art Book is proud to be supporting ArtSquat, an incredible new charity in the city which supports artists on low income develop and exhibit work in a range of local venues.