A contemporary art book showcasing Dublin through the eyes of 55 contemporary artists the city inspires. Edited by Emma Bennett, images were chosen by a local panel of art and city experts following a free submission process from artists.
Through 120 pages of visually stunning images from artists working in a broad range of media and style, The Dublin Art Book shows the city in a new and exciting way. With the help of the illustrated map in the book, take a walk with a copy of The Cambridge Art Book in your hand and stand in the footsteps of an artist for a while.
Some of the celebrity endorsements for The Dublin Art Book
'Absolutely Beautiful'
Marian Keyes, Award winning Irish Novalist
Dublin City architecture has always had a certain magnetism and appeal... A must see publication.'
Ronnie Delany, Olympic Champion
Trinity College is an oasis of calm in the heart of Dublin, one of the world's great centres of learning for generation of students, myself included'.
Chris De Burgh, Singer
Me jewel and darling Dublin has another diamond in her crown, this beautiful collection of images does our great capital justice.'
Joe Duffy, Broadcaster, RTE Radio
I fell in love with Dublin the day I arrived.. I so welcome this wonderful celebration of a great city.'
Annie Doyle, Irish Journalist and Broadcaster
We need to see the places we live in through the eyes of artists.. to look up and see the beauty.'
Cathy Davey, Musician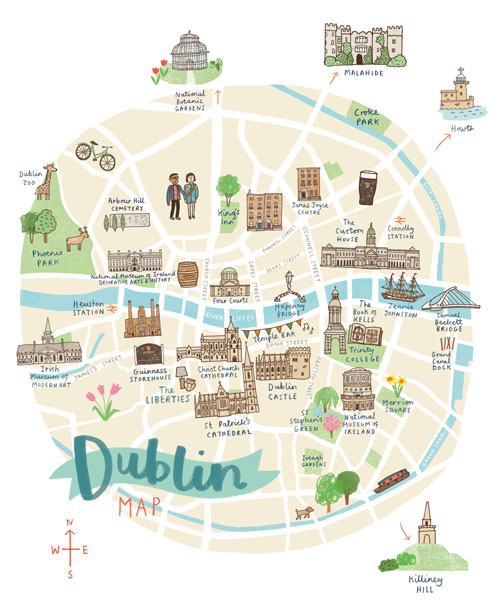 Map by Jenny Seddon